Why is Home Staging Important?
Do you wish to simplify the property selling process to sell your house faster in the market? What does the buyer think of the vintage furnishings and the family photos hanging on the wall? The best course of action in this impasse is home staging.
The global real estate industry is using home staging more and more. Why are many real estate agents and sellers adopting home staging? When a house is staged, the accessories and furniture are positioned to appeal to as many potential buyers as possible.
This article will highlight 9 reasons home staging is a very important technique in the property industry.
What Are the 9 Benefits of Home Staging?
1. Improved offers
Do you plan to sell your house? You must make a lot of money when you sell your house, right? Home staging is the best method for ensuring that your house generates the most revenue.
Adding high-end furniture enhances the interior's general appearance, inevitably increasing the home's perceived value. Even while there is empirical proof that staged homes attract greater bids, it is incredibly difficult to determine the precise financial value of the ROI after staging.
So many other factors will influence the price of the house, such as the current market, agent, photo quality, marketing technique, etc. However, records show that the price of a home before styling and after styling have a significant difference.
2. Speeds the selling process
If you choose to sell your house, you would like the selling process to be as fast as possible. When a house stays in the market for quite a long time, it becomes a point of concern to your potential buyers. Your potential buyers start to think your house might be having some problems that make other buyers shy away. After all, it's only natural to object to things other people do.
According to research, staged homes sell too quickly compared to vacant houses. Actually, in some cases, it can only take 4 weeks to have a house sold if it is well-staged. If you want to attract faster to sell your house, you can consider staging the house as much as possible.
3. Creating a great first impression
Are you aware that making a good first impression cannot be done again? When selling a house, this cannot be ignored. When a buyer visits a house, it won't take them long to decide if they like it or not. Every prospective homeowner has a vision for how they want their home to look.
HOME STAGING BY DECORIAN GROUP are experts at making outstanding first impressions and know the best placements for furniture and accents to maximize your house impression. To create a unique first impression for your potential buyers, ensure you incorporate home staging in your property.
4. Increases the listing views
Photos are of great importance when it comes to house selling. The use of photos to view a house prior to the purchase became more predominant during the onset of COVID-19 when house visits were curtailed or stopped completely.
No matter how the market is doing, stunning photography will always get more viewers. A professional photographer can be hired, but even the best of them will only be able to capture what is directly in front of them. An expert property stylist knows the precise hues and angles that enhance images. From then on, it's a numbers game because more people viewing the listing equals more inquiries.
5. It makes a house stand out in the market
One of the greatest decisions we'll ever need to make is acquiring a home; the choice of the house to buy can be a little stressful. In most cases, a potential buyer gets to visit several houses before deciding on the house to acquire. As a result, a buyer might end up forgetting some of the houses visited if nothing makes them unique.
From the standpoint of the home seller, you would want to make your house stand out, and what better way to achieve this than home staging? Nothing makes an empty room interesting, but how about a well-styled home? Extremely unique!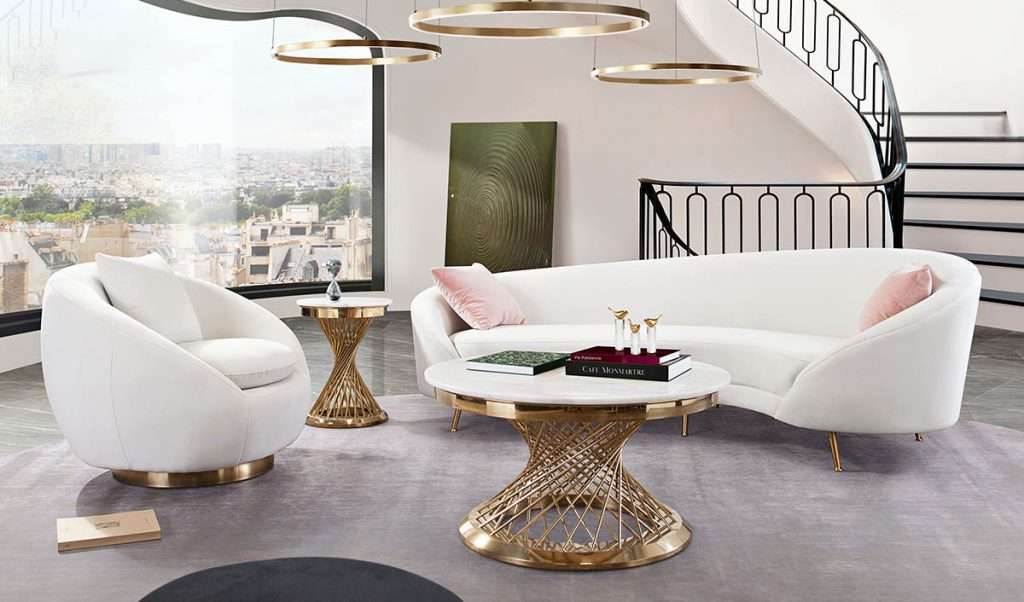 6. It shows the real size of the house
You need to buy a house that fits your furniture, right? The best method to demonstrate the room's actual size is to furnish it, eliminating any ambiguity and confusion from potential purchasers. Unless you are a house agent or specialist, you might be able to tell if a house fits your assets until everything is fitted in the room. Check out our available furnitures for purchase.
If you sell a house with curved walls, triangular rooms, thoroughfares, or vaulted ceilings, you are more likely to benefit from home staging. Any property with complex floor plans poses a challenge to envision an effective use of the space and can confuse potential purchasers or deter them from making a purchase entirely.
7. Portrays the good side of the house
Professional home staging personnel can view your house from a unique and fresh perspective. These professionals can understand where buyers will highly keep their focus while assessing a house. Most importantly, they better understand the features to add to a house to influence a buyer.
This could be challenging to accomplish on your own if you've lived in your home for a while because your eyes are used to seeing it in a particular way. You may entirely ignore the paint chip or the scratch on the wall, but potential buyers will see everything and mentally add up the cost of renovations.
Staging a home can draw attention to the most important features in your house by establishing a visual focal point using the best furniture layout. This technique helps keep buyers' gaze away from any home distracting features.
8. Creates an emotional connection with the buyer
Do you want to create a house that will catch the emotions of your potential buyers? Staging aims to present a welcoming, ready-to-move-in property that engages the buyer emotionally.
Many home buyers are highly interested in checking the condition of the kitchen, dining room, and bedrooms. Incorporating a trendy and welcoming style in these roomscan leave a lasting impression. Once interested, purchasers will be more devoted, eager to make a higher offer, and maybe less inclined to change their minds or demand concessions.
9. Builds trust between vendor and real estate agent
Home sellers are understandably apprehensive about selecting the best estate agent in light of the current changes in the real estate industry. To win and keep your potential customer's trust, you require every ounce of fairy dust you can gather as an estate agent. There is fierce competition, so the more innovative you are, the more likely you will receive more clients.
In addition, vendors frequently sense their vulnerability and lack of market knowledge. They look to their agent for guidance on all matters related to selling their home, including which surveyor to engage and whether or not to landscape the garden. It might be reassuring that your agent collaborates with reliable service providers.
Conclusion
Do you want to sell your house and make it stand out in the real estate industry? Home staging can be the best option to restyle your home. It increases the house's value, creates the first impression, increases listing reviews, etc. For more information, contact HOME STAGING BY DECORIAN GROUP.