It may be challenging for a homeowner trying to sell their house to maintain a pristine kitchen in preparation for unannounced showings. Spending a significant portion of your weekend (or day) clearing up clutter in the kitchen may leave you with the impression that the area has been completely revitalized. Many people only have the time to arrange the entirety of the kitchen at a time.
This article will highlight some valuable tips to help you declutter your kitchen for a better home staging experience.
What Are the 13 Decluttering Tips for the Kitchen?
Clean All the Surfaces
What is the condition of your kitchen surfaces? Do you clean your kitchen surfaces regularly? Put all your "stuff" away in cabinets, drawers, and storage units, so it isn't in plain sight. Anything left out on the countertops creates additional work for the person cleaning them.
Another reason you should remove things from surfaces is that "stuff" has a magnetic pull that draws in even more "stuff." If you were to dump anything on a surface that was otherwise clear, it would stand out like a sore thumb and compel you to clean it up. If your surfaces are already busy, adding one more object will likely be ignored until there is nowhere else for it to be put since you will run out of space.
Use Shelf Risers
The appearance and sensation of clutter are created when various dishes, even from a reduced collection, are placed on top of one another. You may achieve instant order in your kitchen by separating dishes using shelf risers.
Organizing Kitchen Cabinets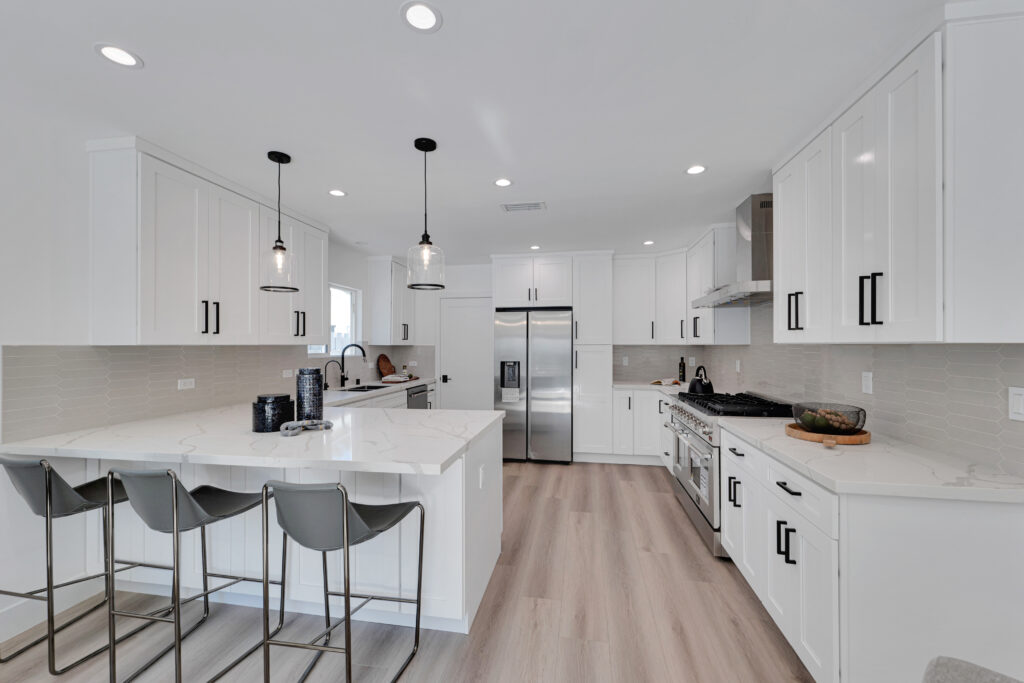 Since the cabinets will likely attract some notice, making them more aesthetically pleasing will significantly assist. You don't need to replace them, but a can of paint is an excellent option if you need to give them a fast facelift.
A unified and sophisticated appearance can also be achieved by replacing the handles and drawers with more contemporary alternatives, such as those made of gold, silver, or bronze. You don't need to spend a fortune, so don't be afraid to check out the secondhand stores in your area for some ideas that are both economical and fashionable.
Do Away with Duplicates
Most homes do not require multiple peelers or six different sets of tongs. If you already have other options that are just as effective, there is no need to get more items that function the same. Only one of each sort of tool that you use should be kept.
Set Bin for Donations
You should always have somewhere to keep items as you get closer to getting rid of them, so make sure the bottom of a closet has a container, box, or bag that you can use for this purpose. When you come across any item you don't use in your kitchen, you can place it in the donation bin. When the box is filled, give it away and begin collecting again.
Use Vertical Sorting
The "kitchen pan lid chaos cupboard" is a frequent organizational issue that is responsible for the disorder that may be found on the interior of cabinets and drawers. Vertical sorting is a fantastic method for organizing your stuff, and one outstanding illustration of this is the organization of pan lids. Racks are perfect for organizing various kitchen utensils such as cutting boards, baking trays, and lids for pans.
Organizing and Cleaning the Sink
The sink is one of those things that we use frequently but doesn't give much thought to. However, a clean sink demonstrates to potential purchasers that the kitchen is in excellent shape. Because of this, it is necessary to clean it and the faucets so that everything appears gleaming and brand new. If there are any leaks, you must patch them as quickly as possible.
Consider the Frequency at Which You Use an Item
It is only normal that you will utilize certain home appliances or culinary tools more frequently than others. Arrange the items following the frequency you will need to access them. Make sure that the things you use every day are within easy reach. When you need to locate something promptly, you won't have to waste time searching through all of your cabinets if you do it this way.
Organize Your Cleaning Materials
You might have several different cleaning products and equipment in the kitchen, and most items are stored below the kitchen sink. It's a tight squeeze, and easy for things to get disorganized here.
Remove everything from the sink area, sort everything into plastic baskets, and then put back only the things you use most frequently. It includes things like cleaning sprays and brushes, among other things.
Evaluation of Counter Space
The most effective way to create the illusion of a clean and uncluttered kitchen is to maintain minimal items on the countertops. Consider what small appliances or tools you absolutely must have access to and those you would stow away if you had more storage space.
Use of Hooks
The decluttering process typically involves removing items from one's home, but it may also include organizing the things one must keep for various reasons. Aprons can be hung on the internal walls of cabinet doors or the interior walls of the pantry with the help of adhesive hooks. These hooks can also be used to hang rags or bottle brushes. They bring instant organization and make precious space available again.
Check the Electronic Devices
The appearance of your kitchen is greatly impacted by the various equipment housed within it. Because of the significance of different components in your kitchen, such as the microwave, dishwasher, and toaster, proper maintenance is essential. Your kitchen, and by extension, your entire house, will thus have a higher resale value due to your decision to purchase and adequately organize high-quality electrical appliances.
Multitask with Pans and Pots
The quantity of frying pans and pots needed for successful meal preparation is directly proportional to the level of sophistication of the chef and the number of hungry mouths to feed. However, contrary to popular belief, you only sometimes require as many cooking pots and pans.
For instance, while cleaning a small pot may take less time, a medium pot may accomplish the same culinary activities and even more. The same may be said for pans. Therefore, rather than having to find space in your limited kitchen for many pots and pans in various sizes, choose only a few items in medium and enormous sizes. These should be adaptable enough to suit most of the typical cooking requirements.
Conclusion
Do you want to declutter your kitchen for model home staging? To ensure you attract prospective buyers while gaining improved house value, follow the above hacks for kitchen decluttering. If everything is done well in your kitchen, you will sell your house quickly.