11 Tips to Create Perfect Indoor-Outdoor Space
As more people look for methods to bring the beauty of the great outdoors into their homes, the idea of indoor-outdoor living spaces is gaining popularity. These spaces combine the best of both the indoors and the outdoors. These areas provide a wonderful opportunity to take in some sunshine and sounds of nature without having to leave the cozy confines of the building. 
So, do you want to learn the best tips that combine various elements to create the perfect indoor-outdoor space? Worry no more! This article highlights 11 tips to create a perfect indoor-outdoor space.
What Are the 11 Tips to Create Perfect Indoor-Outdoor Space?
Extend your dining or kitchen area
If you have limited space in your kitchen or dining area but still need more room for entertaining guests, the ideal answer is to construct an indoor-outdoor extension. Moving some of these pieces outside, you may transition smoothly between your space's indoor and outdoor portions.
For instance, add an outdoor grill to cook excellent grilled dinners. It can also aid in constructing a tavern where you and your guests can enjoy beverages before or after supper. If your indoor-outdoor space has an overhang, you can utilize it regardless of the weather. With the addition of comfy chairs and a table, your home will quickly become the site of choice for gatherings and dinner parties.
Creating entertainment spots
Nowadays, people need to keep themselves engaged while at home. As a result, you cannot overlook the significance of setting up entertainment points in your house. For instance, you can create a basketball court behind your house where people will have the opportunity to walk, play, or get fresh air after a busy day.
Courts to play basketball in the backyard aren't just for homes on sprawling estates. Using a half-court for entertaining guests, playing tennis, or working out in the fresh air are all viable options. These courts can blend in wonderfully with the surrounding property landscape if additional lounge chairs and ambient lighting are installed.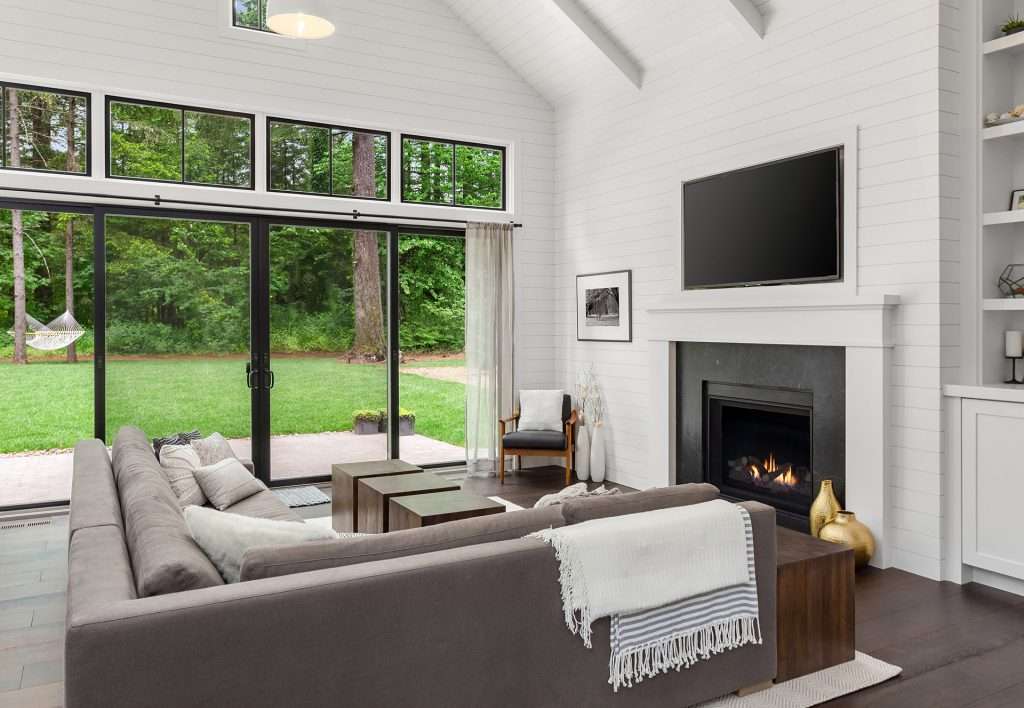 Set up concrete furniture
Do you want to create relaxing spots in your home? Concrete tables, bench seating, and firepits are gaining popularity due to their inherent resistance to the elements and their capacity to withstand heavy use for a significant amount of time. In addition to that, they are simple to clean.
Design family room
Creating a family room or living room ideal for spending quality time with loved ones is another popular indoor-outdoor concept becoming widely attractive. Developing an outdoor family room is a fantastic option to create more space for entertaining guests at your house without incurring the cost of extending or adding on to your existing structure. You need ingenuity and space to construct an outdoor family room that is functionally equivalent to an indoor family room.
To design the ideal space for entertainment or relaxation, you should furnish it with plush seating options like couches and chairs to make a more private seating area. If you want to take your indoor-outdoor living area to the next level, you should consider installing a television, a radio, or a fireplace. When you are hanging out with your friends, you will have the ability to watch sports games, have story times, and play music.
Focus on theme
It is crucial to ensure that the entire room adheres to the same style or theme if you want to create a visually appealing and functional indoor-outdoor space. By maintaining the same design throughout the move to your new location, you can guarantee that the room will have a unified appearance and sense of style. Because of this, first-time visitors to your home will leave with a favorable image of your hospitality. Besides, who wouldn't want to unwind every day in an aesthetically beautiful and comfortable setting?
Feel free to incorporate complementary area rugs, colors, accessories, and furniture to retain a unified look. It can also be entertaining to vary somewhat from your home's furniture decorating while maintaining the same theme. For instance, if you don't have room for your favorite light in your living room, your outside space may be the ideal location. Incorporate natural features such as plants to make the environment more lively and tranquil.
Creating plant wall
We have stated it before and will state it once more: there is no such thing as having an excessive amount of plants. Make the most of your floor space (and your walking space) by erecting a plant wall using metal hangers to keep the pots off the ground and in the air. Because your plants will essentially be placed outside, this will revitalize the area and ensure that they receive the proper amount of light required.
Create a hanging divider
If you want to distinguish between your landscape and your porch, one option is to construct a barrier that divides the interior from the exterior of your home. Try utilizing hanging planters as the focal point to create a visual distinction without adding additional clutter to the room. They will not only bring some much-needed greenery to the area, but they will also provide a little bit of seclusion.
Set up hanging seats
A swing or a chair hanging from the ceiling is one solution to the challenge of providing sitting that is enjoyable and practical in an outdoor setting. We can't get over how comfortable the hanging egg chair is and how perfectly it fits into the nook of this foyer. It seems the ideal place to relax with a cup of coffee in the morning.
Durable flooring
It is crucial to have consistent flooring throughout your indoor-outdoor room if you want to combine the interior's comfort with the outside's beauty. You may create a cohesive aspect between the interior and exterior of your property by maintaining consistency in the flooring throughout both areas. This will show that these areas are one large room rather than two different rooms.
It is worthy to invest in robust flooring for indoor-outdoor settings if you want to extend the lifetime of your room. After all, you need to ensure that your flooring can withstand various weather conditions. You can increase the longevity of the flooring as well as keep it safeguarded if you install waterproof flooring.
Consider seasonal changes
Suppose you want to use your indoor-outdoor space throughout the year. In that case, you will need to prepare for the various seasons, particularly if you reside in a region that sees all four seasons. Incorporating heating and cooling systems, such as air conditioning and fans, into your indoor-outdoor area is one of the most effective ways to plan for these changes. This will allow you to maintain a pleasant temperature no matter the time of year.
Set up fireplace
If you have the room, turn your outside area into an extension of your living room by furnishing it similarly. Adding a fireplace to the transitional space will not only keep the area warm, but it will also serve as a means to bring the outdoors inside, making the space feel even more appealing.
Conclusion
Do you want to create a perfect indoor-outdoor space? Follow the above tips for the best space that will be enjoyable and comfortable.